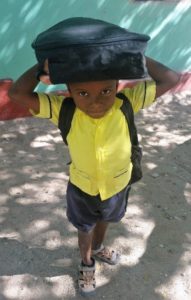 Clifford is 5 years old, in his second year of pre-school. Like most little boys his age, he is very active and likes to climb trees and other such play in his village of Pasbwadòm, a way for him to use up his energy.
One day while climbing a tree, Clifford fell and broke his leg. Due to inappropriate treatment, the bone healed badly and twisted. Henceforth, the little boy, so full of life, had to sit and wait until someone was available to transport him.
The mother, who did not want to see Clifford lose the school year, carried him every morning to school. But the little boy, seeing the other children playing, was very unhappy and his care was becoming too great for the teacher. Therefore, Clifford went to school less and less, to his mother's despair.
One day, through the compassionate heart of one of our visitors, God has answered Clifford's mother's prayers. This generous servant reached out to Clifford and managed to raise funds so the child could receive appropriate care so he could stand on his own two feet again. Others also helped by providing funds for the travel, exam, and food expenses he and his mama incurred with their numerous trips to and from the hospital.
Clifford's medical case was assessed, and he was diagnosed with a mild form of "osteogenesis imperfecta," also known as "brittle bone disease," a genetic disorder characterized by bones that break easily, often from little or no apparent cause. Armed with the diagnosis, the orthopedist was able to conduct the operation which, after a very close follow-up, allowed Clifford's leg to heal so he can be able to walk.
This school year Clifford, by God's grace and love, is able to walk to the Divine Help School where he continues to receive Christian principles and a strong academic education.
Love and compassion allowed Clifford to continue with his education and not be a burden to his family members!