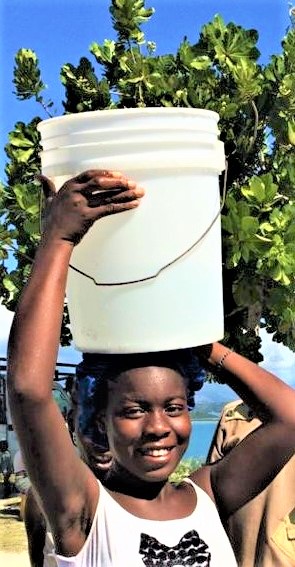 In recognition of your support for Water For Life's well drilling program in remote villages in Haiti, we share the joy and gratitude of hundreds of thousands of beneficiaries through the smile of young Woodmia.
She is only 13 years old, but she already carried on her frail shoulders the heavy responsibility of supplying water to her home.
Thanks to the newly installed well in her village of Bazelais, South Haiti, Woodmia will no longer have to travel long distances through mountainous and rocky paths in search of what her family needs to survive.
The weight of a 5 gallon bucket filled with water remains heavy on her head, yet Woodmia rejoices today because, thanks to this new water well, the distance to be covered is considerably reduced. Now she can get back home much more quickly, and she has time to study and even enjoy her adolescence.
2021 will forever be engraved in her mind as a year marking a new era, that of freedom and hope.
As a donor, you have helped bring joy to this child and to thousands of other children, so this smile is for you!